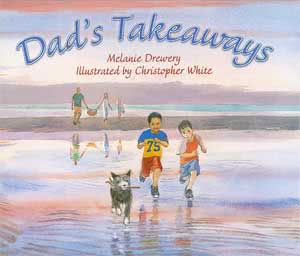 Written by Melanie Drewery
Illustrated by Christopher White
Published by Mallinson Rendel
ISBN: 978-0-9582626-5-1
NZC activities for this picture book here.
While on holiday at the beach, a family decides to have takeaways for dinner. The children try to guess what kind of takeaway it will be – fish and chips, burgers, pizza? It is eventually revealed that they will be digging for their own kaimoana (seafood) for dinner. This story conjures up classic kiwi images of summer holidays at the beach, playing and digging for shellfish, freedom and fresh air, with an environmental theme of only taking food for yourself, and leaving some for others. The illustrations support the New Zealand beach theme and New Zealand images can be seen throughout the watercolour pictures – a tyre swing, a couch on the deck, a flax kete, pohutukawa trees, grasses and driftwood.
Summary written by Marion McKoy
Book cover used with permission of publisher