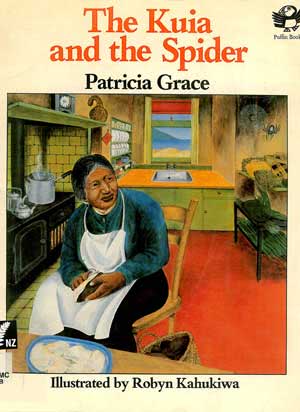 Written by Patricia Grace
Illustrated by Robyn Kahukiwa
Published by Puffin, 1983
ISBN: 0-14-050.387-0
A Maori language version of this book has also been published.
NZC activities for this picture book here.
An old kuia (grandmother) continually fights with a spider living in her house, about whose weaving is the best. The kuia weaves mats for sleeping on, and baskets and kits for collecting kaimoana, kumara and coffee in. The spider weaves to collect food, as well as provide a safe place for his grandchildren to sleep. When both the kuia and the spider's grandchildren come to stay, they agree that the children will decide for them whose weaving is the best, however instead of this, the reader gets an insight into the purpose and necessity of both types of weaving. In this book, Grace shows the reader the importance of inter-generational bonds, and the importance of elders teaching traditions to their young. The illustrations support this idea and clearly show New Zealand themes – flax mats and kete, beach and marae scenes and kowhaiwhai designs.
Summary written by Marion McKoy
Book cover used with permission of publisher