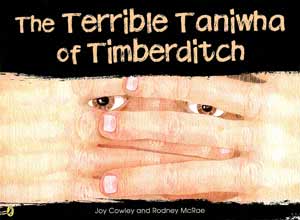 Written by Joy Cowley
Illustrated by Rodney MacRae
Published by Puffin, 2009
ISBN: 978 0 14 350388 0
NZC activities for this picture book here.
Josephine wants to play at Timberditch lake, but her dad warns her of the taniwha there. Her mum says there is no such thing as a taniwha, so Josephine sets off to set a taniwha trap and find out for herself. As she collects what she needs to make a taniwha trap, Josephine meets New Zealander's with different heritages. Each person tells Josephine about a mythical creature which exists in their own country of heritage. As well as reflecting the multicultural nature of New Zealand, the illustrations show clear images of New Zealand landscapes – the lake, with mountains in the background, punga and ferns and insect life. And the taniwha illustration at the end of the book is a visual symphony.
Summary written by Marion McKoy
Book cover used with permission of publisher