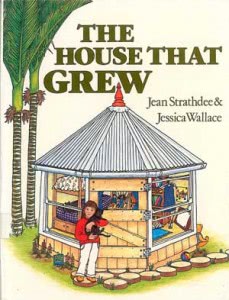 Written by Jean Strathdee
Illustrated by Jessica Wallace
Published by Oxford University Press
ISBN: 0-19-558041-9
NZC activities for this picture book here.
Both the Maori language and English language versions of this book are available at the International Children's Digital Library web site.
Rachel and her family buy some land in the country, but only have enough money left over to build a very small house to live in. In Summer, this is fine as they enjoy eating, bathing, playing and working outside in the warm weather. As the seasons change however, and the cold forces them to move inside, it becomes clear that there is not enough space for everyone to live happily. They come up with a solution: build Rachel a playhouse! Rachel's design is chosen as the best and Nick builds the playhouse himself using native timbers – rimu, matai and kauri, with a special finial on top (to keep the witches away!). Rachel loves her new playhouse and paints it using bright, bold colours. A special story which shows a family living an alternative lifestyle working together to solve problems and create a good life for themselves. Colourful illustrations give the story a New Zealand flavour as the story is set in the bush, with nikau palms and flax bushes. A sandy bay and a marae can be seen in the landscape images. Special attention is given to native New Zealand timbers – Matai, Kauri and Rimu.
Summary written by Marion McKoy
Book cover used with permission of publisher