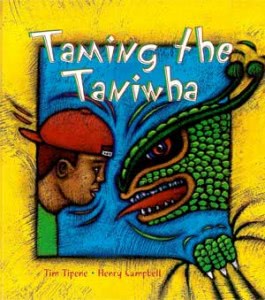 Written by Tim Tipene
Illustrated by Henry Campbell
Published by Huia, 2005
ISBN: 1-877266-52-3
A Maori language version of this book has also been published.
Both the Maori language and English language versions are available at the International Children's Digital Library web site.
NZC activities for this picture book here.
Tama is being bullied by James (the taniwha) at school, so he asks his family for help. Aunty Flo says to tell the teacher, but the teacher is always busy, so that doesn't work. Uncle John says to give him some of his own medicine, but James is bigger and stronger, so that doesn't work either. In desperation, Tama turns to Papa, his grandfather for advice. Papa says he must get to know the taniwha. Although this seems crazy to Tama, he tries taking James some lunch and inviting him to play. Tama is surprised when he and James become good friends. This is a story about bullying, and about overcoming it. Through the advice of his grandfather, Tama learns to rise above his bully and show him friendship. There are lots of clever details in the bright, busy illustrations and James is represented as a taniwha to begin with, however as the story progresses the reader sees him change to become more like a boy as Tama gets to know him.
Summary written by Marion McKoy
Book cover used with permission of publisher