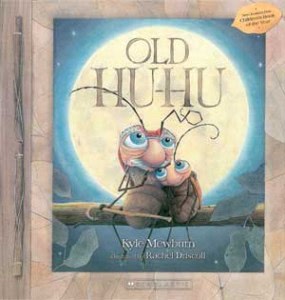 Written by Kyle Mewburn
Illustrated by Rachel Driscoll
Published by Scholastic
ISBN:978-1-86943-921-7
Book of the Year: NZ Post Book Awards for Children and Young Adults (2010)
A Maori language version of this book has also been published.
NZC activities for this picture book here
Old Hu-Hu deals sensitively with the themes of death and the memory of someone close who has passed away. In the story, little Hu-Hu-Tu mourns the loss of his dear Old Hu-Hu, who has fallen down dead after he flies to the moon and back. While Hu-Hu-Tu struggles to come to terms with Old Hu-Hu's death, he is reminded by others that his memory can be seen in other things – Ladybird said look to the clouds where he sits laughing with his friends; Spider said he is in the soil and the air, in the flowers and in Hu-Hu-Tu's hair; Butterfly said he may return as an elephant, a snake or a hen. After a night of tears, Hu-Hu-Tu wakes to find that he can hear Old Hu-Hu's voice within himself. This is a comforting idea for children, as Mewburn suggests that someone's spirit can live on within us after they have died. The powerful, evocative illustrations by Rachel Driscoll support the story beautifully.
Summary written by Marion McKoy
Book cover used with permission of publisher